Insurance Federation of New York honors Applied Underwriters chief
Steve Menzies, founder and chairman of Applied Underwriters Inc., was presented with the Free Enterprise Award by the Insurance Federation of New York at the group's annual luncheon Thursday in New York.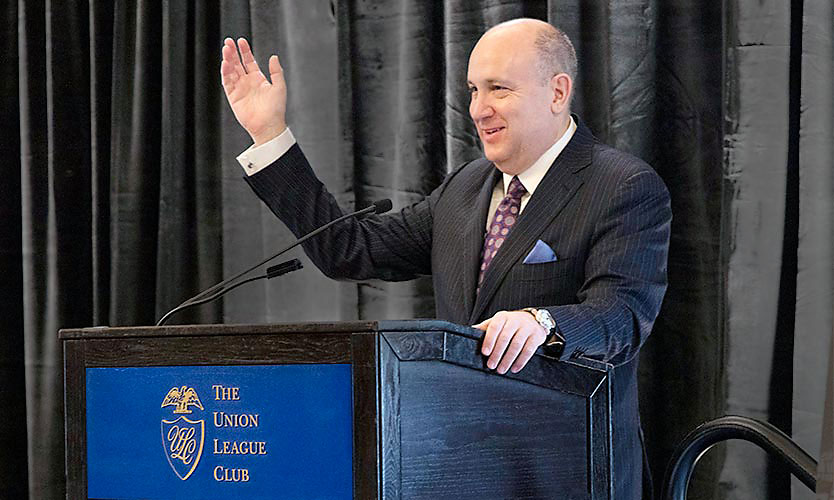 April 1, 2022—Mr. Menzies, who founded the Omaha, Nebraska-based workers compensation insurer in 1994, acquired the company from Berkshire Hathaway Inc. in a private equity transaction in 2019.
Past winners of the award include Maurice R. Greenberg, Inga Beale, Patrick Ryan and Brian Duperreault, among insurance industry executives, publisher and free markets advocate Malcolm Forbes, and Henry Ford II in 1962.
Accepting the award, Mr. Menzies said, "insurance enables commerce" and spoke of the central role the industry plays in the overall economy.
The first annual Mary Lanning Public Service award, named for the longtime industry advocate, charity leader and Roman Catholic nun who died last year, was awarded to William H. Frazier, co-founder of American Veterans Group PBC, which is dedicated to training veterans for careers in the financial services industry.
In addition to helping young, post 9/11 veterans find positions, Mr. Frazier said the group also developed a mental health program for veterans and an outreach effort for homeless veterans.
Visit Business Insurance to view original article.