James Frisvold's Release from Mexican Prison after 13-Year Detention Secured by Steve Menzies, Gov. Bill Richardson and Team of Collaborators in Direct Intervention
News stories across the nation applaud the latest rescue realized by the Menzies / Richardson teams to free US citizens and, in this case, to redress the absence of due process and the indifference of some authorities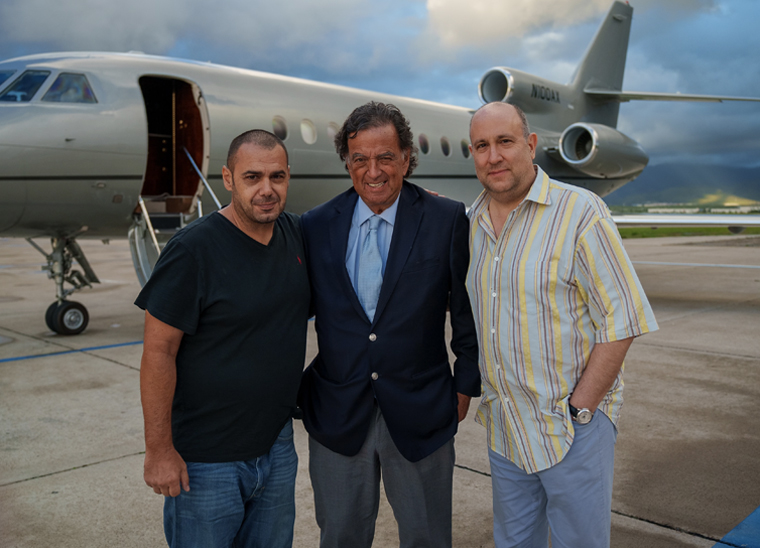 Steve Menzies, Founder and Chairman of The Steve Menzies Global Foundation, and Gov. Bill Richardson bring home US Navy veteran James Frisvold after 13-year imprisonment in Mexico.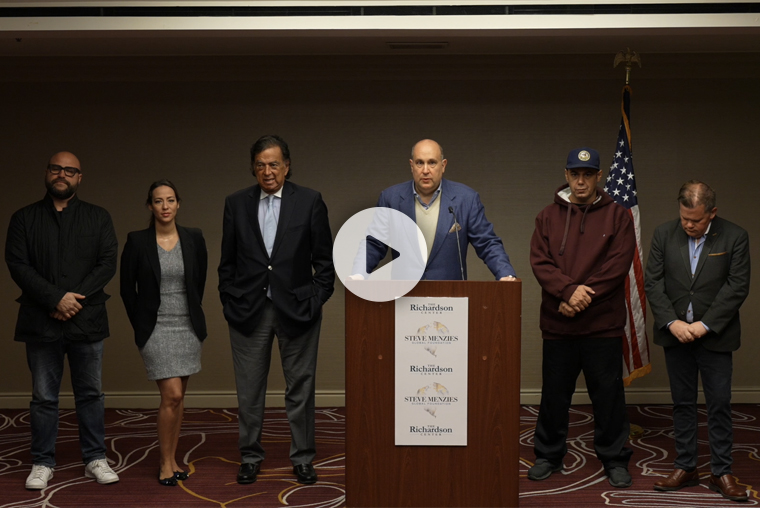 Sacramento press conference (video link here) presented upon arrival back in the US underlined the work of the Foundation, its Chairman Steve Menzies, and the team assembled to secure the release of James Frisvold.
(Sacramento, California… Monday, April 3, 2023) After 13 years of detention in a Mexican prison as he awaited trial for a crime he did not commit, James Frisvold was rescued from his unlawful, seemingly interminable plight on Thursday, the 30th of March in Acapulco, Mexico. The team assembled by The Steve Menzies Global Foundation and The Richardson Center, after working for weeks in Mexico in Mexico City and in the State of Guerrero through a comprehensive federal and state political process, secured the release and transport of the US Navy veteran home to Sacramento, California. For Steve Menzies and former Governor Bill Richardson, this is the latest in a string of high-profile rescues of US citizens either illegally detained or otherwise in peril in foreign jurisdictions, including their recent rescues of Britney Griner and Taylor Dudley from Russian captivity.
According to Mr. Menzies, Chairman and Founder of Applied Underwriters and of The Steve Menzies Global Foundation, which provides funding, advisory, logistical and investigative services in support of efforts to free US citizens unjustly held captive in foreign jurisdictions, the plight of James Frisvold had become something of a cold case in the files of the many offices involved: "For over 13 years, incredibly, James' case was subject to some indifference here in the US and to ineffective legal processes in Mexico—the total failure to observe due process allowed this case to go nowhere while a US citizen remained in prison. Ultimately, with the help of the new administration of Guerrero and its judiciary system, the plain facts of the case, including video evidence, were argued against his culpability. Today, after months of research, planning, communicating and organizing spurred by our teams' dogged determination to do the right thing, James Frisvold's ordeal ended with his release and return home."
Mr. Menzies explained further: "Mr. Frisvold was falsely accused of a homicide committed in Acapulco more than 13 years ago, whereupon he was arrested, denied the right to counsel, to a translator and to proper communications. During the first 72 hours of his capture, he was made to sign papers under extreme duress, the import of which was at best unclear to him, at worst self-incriminating. Despite the paucity of any evidence against him and the existence of a videotape of the actual murder that proved his innocence, he was made to languish in a Mexican prison for thirteen years waiting for a trial which never came, until he was adjudged innocent two days ago.
"This monumental abuse of due process, parallel to so many of such cases we learn about daily in a wide range of countries including all too often here in the US, and, yes, even here in California, stands as a matter of utmost injustice, giving way to indifference—an indifference that would probably have resulted in the demise of Mr. Frisvold. Action was needed. I am proud to say that my Foundation stepped up to provide the necessary support to see the release of Mr. Frisvold through. We owe thanks to our political advisors, our mini air force, medical staff, security professionals, ground transport teams, our logistics network and our diplomatic engine, particularly Gov. Richardson with whom I have worked together successfully on four recent complex missions.
"Gov. Richardson has been working successfully for more than 20 years for the release of US citizens trapped abroad. His drive for justice is exemplary and inspiring. Gov. Richardson never gives up, nor does Jonathan Franks with whom I have now worked successfully on two missions, and without whose determination Mr. Frisvold's case would not have been brought forward and resolved. We all have more to do, but today's win bolsters our determination to work for our fellow citizens in harm's way."
Mr. Jeffrey Silver, Esq., Executive Vice President and General Counsel, Applied Underwriters, expressed the great pride and admiration felt by the Company's large community of professionals across the globe both for its Chairman's bold action and achievement and for his victory for due process: "Once again, Steve Menzies has acted decisively to gain freedom for a fellow citizen, unafraid to venture into the minefields that often surround such cases to meet face to face with all manner of dictators, hostile officials and seemingly implacable parties to see this noble, patriotic work done. In a complementary vein, Steve's work also underlined the critical importance of due process and rule of law, a subject of consistent concern and advocacy for Applied for many years. Steve's redefinition of citizen diplomacy and his direct, personal involvement in critical situations restores our faith in bold initiative and logistical excellence working in harmony to effect a late, but no less just outcome such as this one. We applaud Steve Menzies, Gov. Bill Richardson, and the entire team."
For further information contact: Ryan Gerding, Public Relations, at +1 (913) 602-8531 or at press@auw.com.
About Applied Underwriters (www.auw.com)
Applied Underwriters® is a global risk services firm that helps businesses and people manage uncertainty through its business services, insurance and reinsurance solutions. As a company, Applied Underwriters has been distinguished by its innovative approaches to client care and by its strong financial strength. Applied Underwriters operates widely throughout the US, UK, EU and Middle East. Its operational headquarters is located in Omaha, Nebraska.
About The Steve Menzies Global Foundation
The Steve Menzies Global Foundation is a non-profit organization that takes a creative, constructive view to solving grand scale problems related to societal issues, economic issues and intellectual advancement. The Foundation engages Bold Thinkers from its worldwide network of individuals willing to apply and generously share their energy, intellect and resources to solve complex problems that risk going unsolved.
About The Richardson Center (www.richardsondiplomacy.org)
The Richardson Center negotiates for the release of American prisoners and hostages held in hostile regimes or in countries with strained diplomatic relations. It works on behalf of the families and at no cost to them. The Richardson Center is greatly appreciative of its partners, including many private individuals and foundations who support and enable its work as a non-for-profit.